PhotoBench
Fast and accurate verification of correct workshop AGL refurbishment
Photobench Tester Overview
Designed to quickly, simply and accurately measure the photometric performance of light fittings before they are installed on the airfield
Studies have shown that without photometric testing as part of an airports quality assurance procedures, many new and refurbished lights fail to achieve the serviceability requirements specified in national and international standards for beam intensity and orientation (ICAO Annex 14, EASA, FAA AC 150/5345-46E) before they are installed, meaning airports are replacing a defective light with another potentially defective light. MALMS Photobench measures lights quickly, simply and accurately before they are installed on the airfield.  It is a self-contained system that incorporates a 4.5 meter test tunnel and can measure both LED and Tungsten Halogen fittings with near laboratory measurement accuracy yet requires only a small floor area and no special dark room.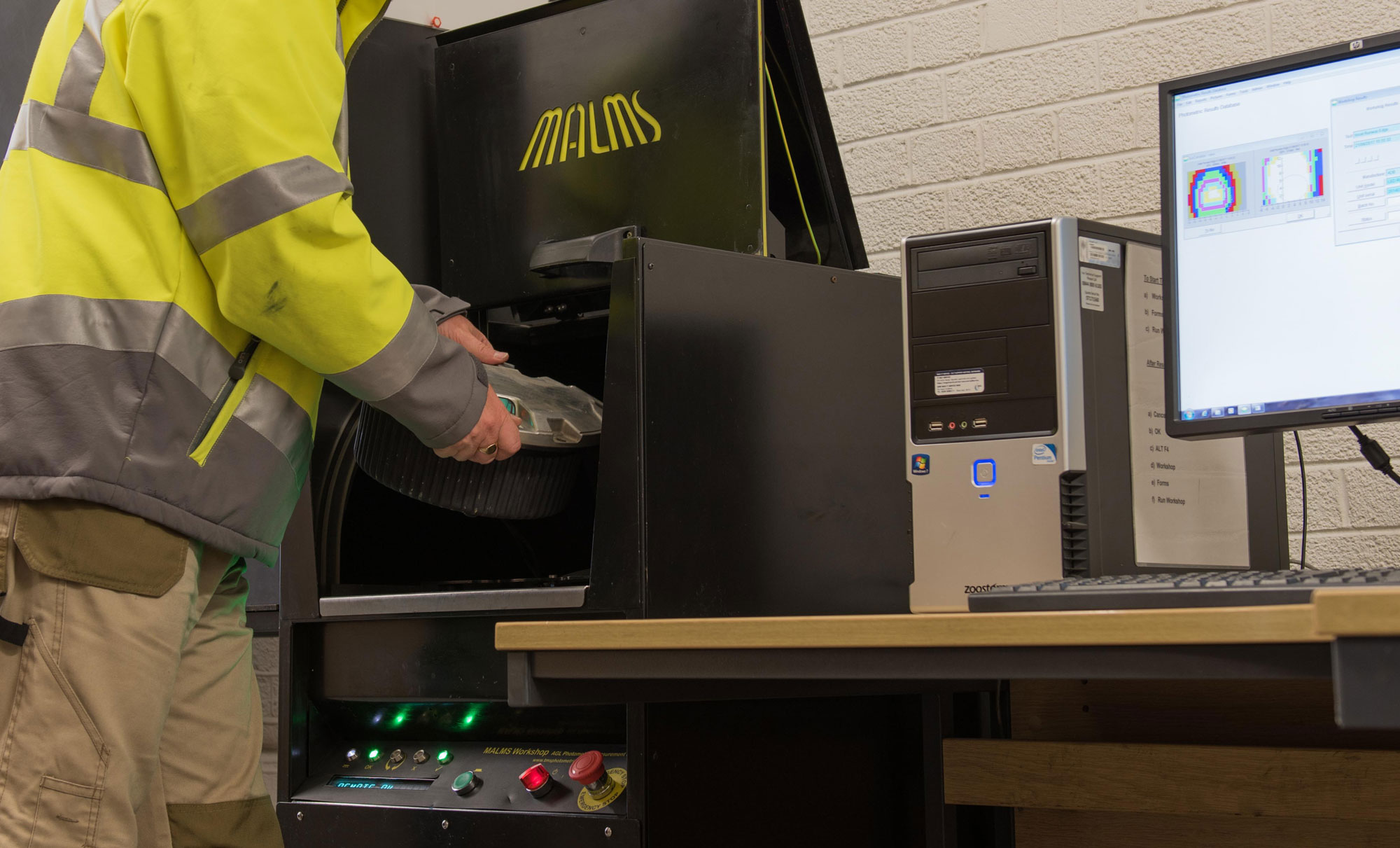 The Facts
Why do so many airports choose MALMS PhotoBench as part of their preventative maintenance system
Designed to ensure accuracy and is independently tested for conformance with the criteria for beam intensity and orientation defined in ICAO Annex 14, EASA, FAA AC 150/5345-46E, specifically: Average Main Beam Intensity (Cd), Vertical Beam Alignment Error (Elevation °) and Horizontal Beam Alignment Error (Azimuth °).

Easy to use: Connect the fixture, close the tester door and a pass or fail result is indicated in approximately 30 seconds per light.

Requires only a small floor area and no special dark room.

Rugged scientific measurement equipment designed and built for airfield maintenance workshop environments.

MALMS systems deliver class leading reliability which is why so many systems are in use around the world.

Data integrity is ensured through automatic. monitoring, quality checks and innovative design aimed at preventing operator errors.

Provides a comprehensive, traceable audit and history trail for airfield lighting and maintenance processes.

All information is captured and recorded electronically (no manual input).

Asset tracking and RSS (Rapid Serviceability) options with RFID tagging.

Demonstrates that an airport is operating safely and in compliance with regulations.

Significant, verifiable cost savings provide a rapid return on investment.

It is the only AGL workshop photometric test equipment trusted by airfield lighting manufacturers to test ALL their new lights prior to sale.