We are really proud be part of the team that has helped to make the Northern Runway Rehabilitation programme project at Dubai International Airport (DXB) a huge success. The northern runway has been completely upgraded to enhance the safety and operational efficiency at DXB – the world's busiest international airport.
The project included resurfacing the entire 4.5km long Northern runway and strengthening the wider runway strip, as well as reinforcing the paving on key taxiway entries and exits. The Airfield Ground Lighting (AGL) systems at DXB are re-calibrated, tested and maintained using MALMS equipment to establish an effective, efficient and compliant AGL maintenance strategy.
MALMS Mobile is our award winning photometric test system which, when used as part of a preventative maintenance strategy, is the only way to achieve the runway serviceability requirements specified in national and international standards for beam intensity and orientation.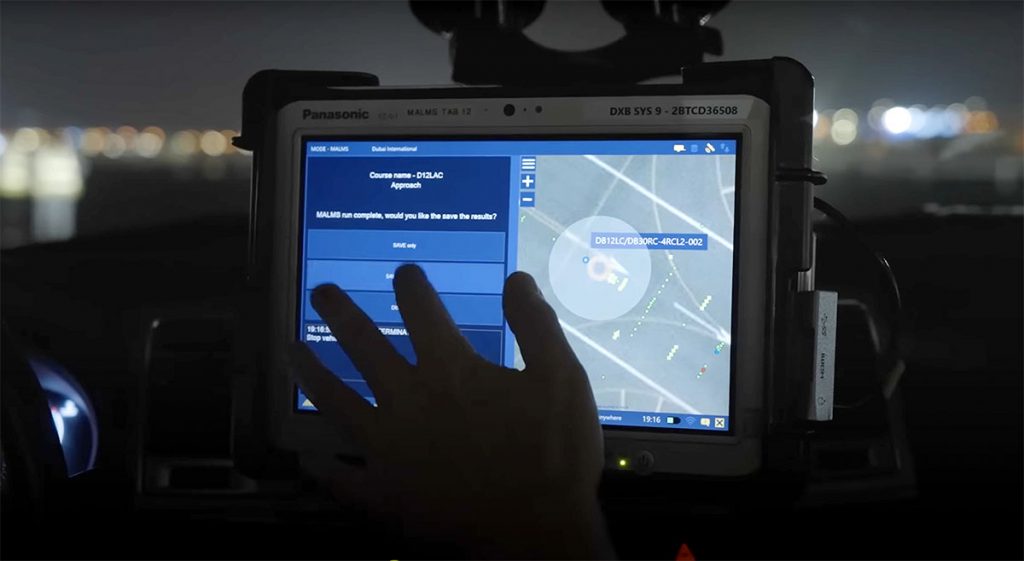 MALMS PhotoBench is our compact AGL workshop with near laboratory measurement accuracy and ensures complete accuracy of light fittings before they are installed. MALMS PhotoBench is independently tested for conformance with the criteria for beam intensity and orientation defined in ICAO Annex 14, EASA and FAA AC 150/5345-46E.
MALMS Engineer is an inspection and maintenance solution that records the current status of lighting assets and planned preventative maintenance KPI's. GPS and RFID capability allow positive identification of individual light fixtures and other airside assets and faults, removing the need to paint ID's on the tarmac. It replaces paper recording methods with an accurate digital solution and provides a complete maintenance audit trail.
MALMS Dashboard is a cloud-based solution that integrates all of the data collected by airport engineers and electricians such as: Photometric test results, lighting inspections, faults and maintenance recording, preventative and remedial maintenance tasks, as well as pavement issues. The main dashboard screen provides up to the minute live data for faults, inspection status, MALMS Photometric runway serviceability, torque status, cleaning status and much more.
The MALMS products in use at Dubai International Airport have been integrated seamlessly to establish an effective, efficient and compliant AGL maintenance strategy for the future.
We are so grateful for the pleasure of serving our highly valued customer DXB, and we look forward to supporting DXB into the future.